Adaptive Radiotherapy is state of art technique which helps to optimize the treatment on daily basis based on change in patient's anatomy during the treatment period. This helps to deliver radiation accurately and precisely even with change in patient's anatomy during radiation treatment.
Currently we use high precision treatment techniques like IMRT, VMAT, SRS and SBRT combined with high end imaging to give homogenous dose to tumours and also to reduce radiation dose to critical organs. This helps to reduce the side effects and improve the quality of life of the patient. However with these reduced margins and highly conformal treatments, a small change in patient's anatomy during the treatment would cause major changes in radiotherapy plan. This keeps us in a dilemma what treatment plan changes are happening inside the patient's body. This is especially important in head and neck, lung and prostate cancer patients but can be utilized in every patient where we expect a change in patient anatomy during radiation treatment.
Adaptive Radiotherapy is an efficient and convenient dose tracking system which assesses changes in patient's anatomy, daily
 treatment dose assessment, variation in treatment plan during RT, modify treatment decisions and to adapt the treatment accordingly. The systems gives feedback on dose accumulated on critical structures by superimposing treatment plan on daily cone beam CT (CBCT)images. This helps us to calculate the estimated actual delivered daily dose to the structures of interest for the given treatment fraction. The oncologist can assess if the dose constraints in original treatment plan are met or needs improvement (adaptive planning) in plan quality.
Mahatma Gandhi Cancer Hospital & Research Institute (MGCHRI), Vizag is proud to be the first hospital in South India to implement this online dose tracking and dose accumulation using photon based adaptive treatment planning system on day to day basis using RAYSEARCH software and thereby adapt the treatment plan when necessary. This individual daily dose monitoring helps to greatly improve the accuracy and precision of radiation treatment delivery and improves patient's safety.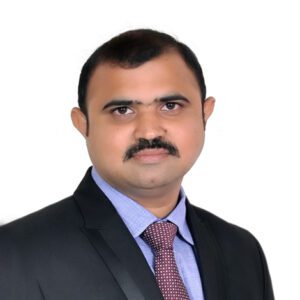 Written by
Dr. P Venkata Krishna Reddy,
Radiation Oncologist,
Mahatma Gandhi Cancer Hospital and Research Institute, Visakhapatnam